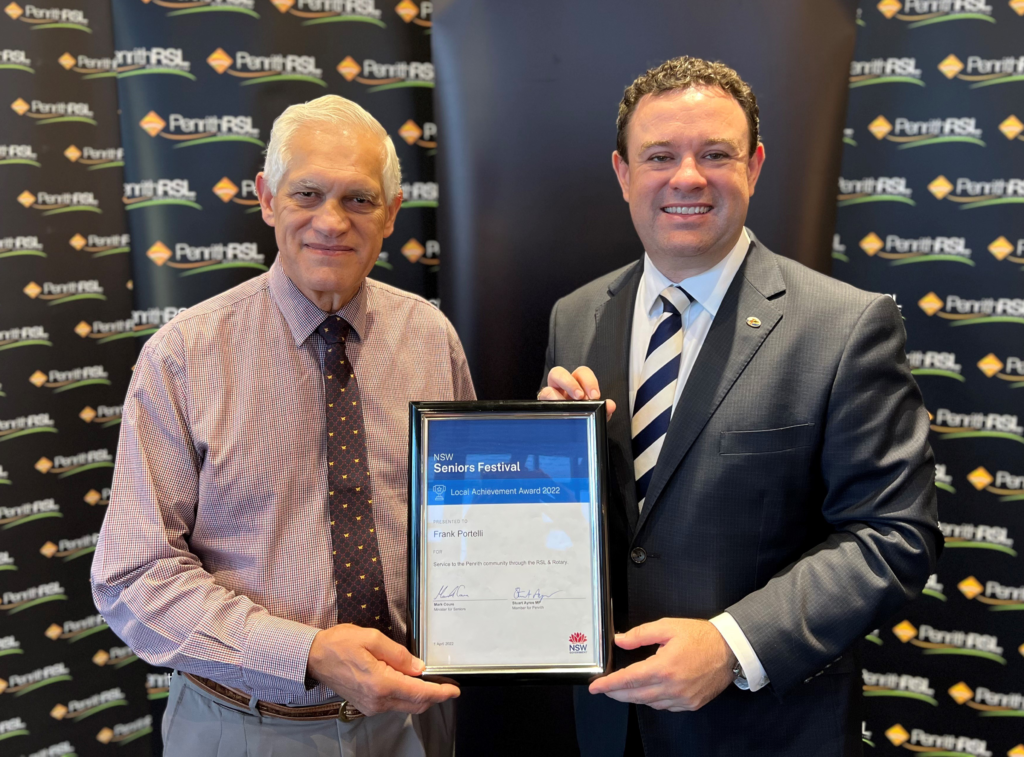 ---
NSW Seniors Festival Local Achievement Award 2022
---
The Penrith RSL Club community would like to congratulate Frank Portelli for receiving a NSW Seniors Festival Local Achievement Award 2022. Penrith RSL Club Chairman, Frank Portelli is a man dedicated to his family, his career and the local Penrith community. For over 40 years, Frank has selflessly served the Penrith community by donating his time to numerous local projects, causes and committees.
Since 1993, Frank has been involved with Rotary Club of Nepean and is fondly known as "Mr Rotary". His roles have included President on two occasions, Vice President, Treasurer, Club Service Director, Community Service Director, Vocational Director, Publicity Officer and Secretary. He was instrumental in the development and construction of Hope Cottage which provides accommodation for patients undergoing cancer therapy and for families of children in the Neonatal Intensive Care Unit at Nepean Hospital.
Frank has also been a leading force in the Rotary Youth Exchange Program in the local area, which has allowed around 20,000 Australia students to undertake a 12 month exchange overseas.  Personally Frank, and is wife have hosted 15 exchange students over the years. Frank has also been heavily involved with the P&C Association over the years and has achieved the status of Life Member of the NSW P & C.
As current Chairman of Penrith RSL Club, Frank is also involved with the ClubGrants Committee and the Kokoda Youth Leadership Challenge Committee which has seen over 20 young adults from the Penrith area undertake a 10 day trek across the Kokoda Trail to develop leadership skills whilst remembering the values and qualities of those Australia soldiers who fought on the track – Courage | Mateship | Endurance | Sacrifice.  Frank Portelli also demonstrations these qualities as well as commitment – to making our world a better place to live.