---
For pricing & trading hours visit:
www.starbuffet.com.au/locations/penrith/ 
---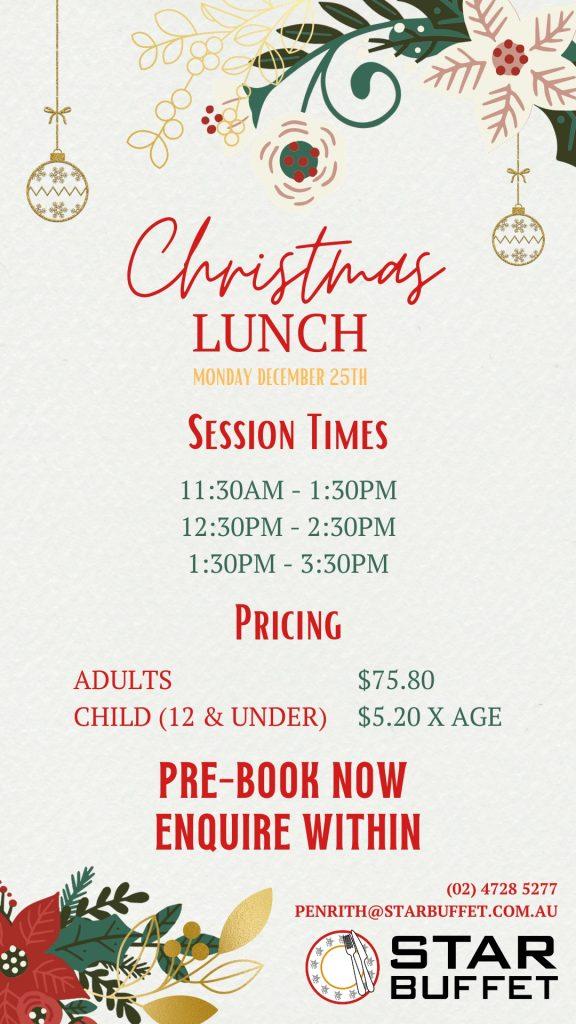 Christmas Day Seafood Lunch Buffet
(Monday, 25/12/2023)
$75.80 (Adult)
$5.20 per Age (Child under 12)
Lunch
1st session: 11:30am – 1:30pm
2nd session: 12:30pm – 2:30pm
3rd session: 1:30pm – 3:30pm
Dinner Closed
For more information, please contact us
Email: penrith@starbuffet.com.au
Booking Essential. Book Now to secure your seats.
Christmas Menu linked below:
CHRISTMAS MENU
---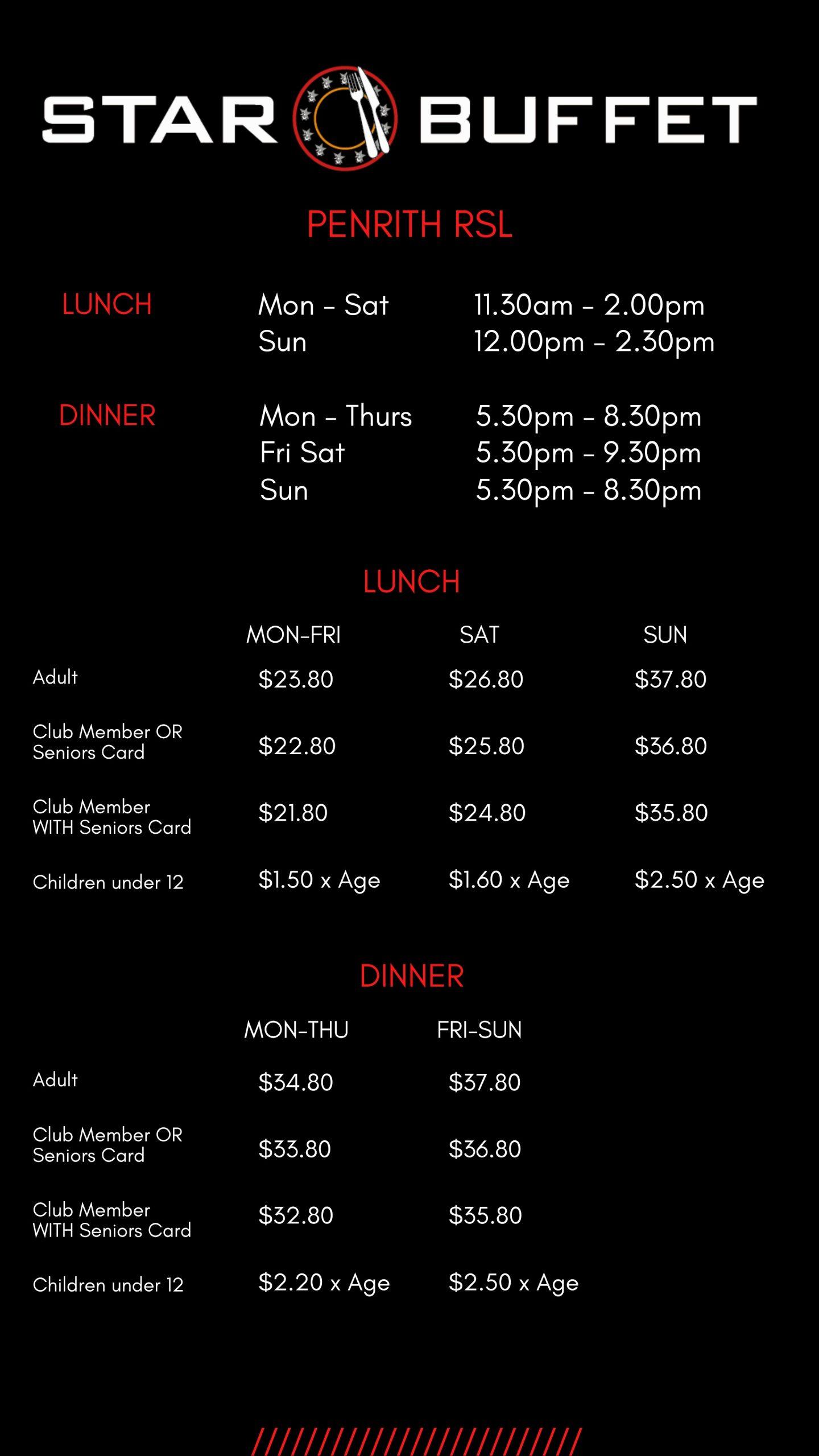 ---
Star Buffet offers the most exciting & delicious range of cuisines from all over the world at the most affordable prices. Members and Guests can enjoy the various food and choices on offer in a clean and relaxing atmosphere.
Come and visit Star Buffet to "Taste the Difference", you will be spoiled with a new dining experience that is as pleasing to the senses as it is to the palate.
Star Buffet is your perfect no.1 choice for all occasions.
Reservations are not required. Patrons who plan to come in groups of 10 or more are reminded to come earlier for better seating arrangements. Friday, Saturday & Sunday dinner buffet is first-come, first-served.
For more information about special events please call Star Buffet during trading hours on 4728 5277 or email at Penrith@Starbuffet.com.au
---
OPENING HOURS:
We are open 7 days to ensure that you can enjoy our best quality food.
LUNCH:
Mon. to Sat. 11:30am – 2:00pm
Sun. 12:00pm – 2:30pm
DINNER:
Mon. to Thurs. 5:30pm – 8:30pm
Fri. & Sat. 5:30pm – 9:30pm
Sun.  5:30pm – 8:30pm
---
Terms & Conditions: To receive the $19.50 Lunch Special, diners must be both
a financial member of Penrith RSL AND a current Seniors Card holder.
Both your Penrith RSL Members Card and Seniors Card must be presented when making payment.
Valid for lunch during weekdays except Public Holidays.
---
Prices and Trading Hours are correct at time of publishing but are subject to change at any time. 
Please check with Star Buffet directly on 4728 5277
---