---
THANK YOU.   $11,753 RAISED FOR PINK UP PENRITH.
---
With the support of you, our Penrith RSL community, we are proud to be able to donate $11,753 dollars to the Pink Up Penrith campaign this year.
Through this year's fund-raising events including our Pink Up Penrith Raffle held on Sunday 23 October, Pink Cocktails throughout October and donation tins we were able to raise a record amount in our 4th year of supporting this great program.
Pink Up Penrith supports the McGrath Foundation to fund local Breast Care Nurses, currently there are three Breast Care nurses appointed to Nepean Hospital.
Breast Care Nurses provide invaluable support and care to women and men experiencing breast cancer. From diagnosis right throughout treatment, McGrath Breast Care Nurses are available to help individuals and their families for free and with no referral.
Penrith RSL CEO, Neel Chand said "We are extremely proud to support such an important initiative which directly assists our local community. Without the support of our members and guests and the hard work of our team this would not be possible. This is our fourth year in supporting Pink Up Penrith and we look forward to growing awareness, and raising more much needed funds, in 2023.  Thank you.
---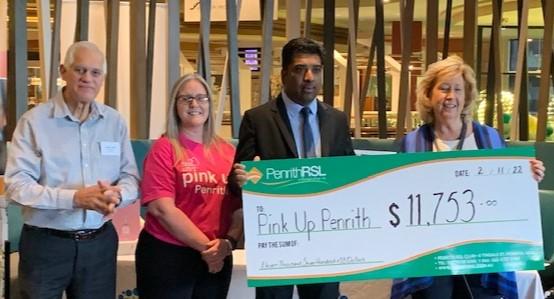 Penrith RSL's Frank Portelli (Chairman), Leanne Stokes (Marketing Manager) and Neel Chand (CEO) proudly present a cheque to Pink Up Penrith's President and Ambassador, Gai Hawthorn.
---