Penrith RSL Club – Winner of the Special Judges Award at the Clubs & Community Awards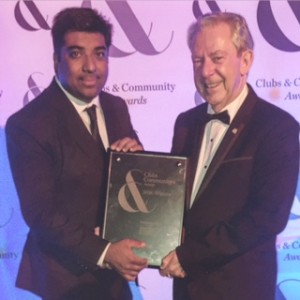 Pictured: Penrith RSL CEO, Mr Neel Chand & Penrith RSL Chairman, Mr Neville Barnier.
"Recognising a club's community contribution that was so outstanding the 2016 Judges felt it merited its own special award", Clubs NSW.
Penrith RSL Club has won the Special Judges Award at the Clubs & Community Awards ceremony on Friday 6th May. The award was created especially for Penrith RSL Club to recognise their outstanding contributions to the Centenary of ANZAC.
This is not the first time that Penrith RSL Club has been awarded for their efforts in the community to commemorate and honour our servicemen, having won the RSL & Services Clubs Spirit of ANZAC award at last year's RSL conference in Canberra.
Penrith RSL Chairman, Neville Barnier, said the award is the perfect reward for the outstanding efforts of everyone involved with the Club. On receiving the award from David Elliott MP NSW Minister for Veteran Affairs, Mr Barnier said he was honoured to receive the award on behalf of the people of Penrith, who contributed in no small way to the success of the events held during the Centenary of ANZAC.
"Our members and local community are everything to our club. On behalf of myself and the Board of Directors I would like to congratulate our CEO Neel Chand for his leadership and direction along with all the staff at our Club for their contribution towards this significant recognition".
Neel Chand, CEO of Penrith RSL, said he is very proud of his team and all community partners that have helped make this award happen, with the Club supporting many important initiatives.
Mr Chand stated "We are so proud to win this award. It is important to us that we honour our returned servicemen and show awareness of their sacrifices through our war memorial, our strong sub-Branch, and our support of projects such as the Known Unto God documentary, Poppy Park, the Kokoda Youth Leadership challenge and the RSL LifeCare Homes for Heroes project".
"This year, we are sponsoring 5 young Penrith locals to undertake the Kokoda Youth Leadership Challenge and along with our sub-Branch, we have also committed to a joint contribution of $60,000 over three years to the Homes for Heroes project, which provides housing and support for returned servicemen who have found themselves homeless as a result of suffering from PTSD and related issues. We are immensely proud of all of our community work".
This latest award comes at a time where the club has huge momentum, with a new Sports Lounge currently being built as well as having more renovations planned for later this year.
"Penrith RSL has experienced unprecedented growth recently and is in a very strong position to continually build on build on efforts of the past. I would like to thank every one of our staff, our valued members and community partners because this award is shared with all of them", added Mr Chand.