Kokoda Youth Leadership Challenge – 2016
"More than 600 Australians were killed and some 1680 were wounded in what some believe was the most significant battle fought by Australians during World War II"
The Kokoda Youth Foundation
Penrith RSL Club is calling for applications from young men and women between 17 – 25 years of age to participate in this year's Kokoda Youth Leadership Challenge. The program takes young community leaders on a 10 day trek across the 155km Kokoda Trail in Papua New Guinea. Overseen by the RSL & Services Clubs Association, KYLC is aimed at young people at school with natural leadership skills or disadvantaged or unemployed young people in the community who are having difficulty in finding their way in society.
The objectives of the program are to:
Create an awareness of the campaigns in Papua New Guinea during WW11;
Foster an understanding of the cultural diversity and environment of our nearest neighbour,
Papua New Guinea;
Provide an opportunity to trek the Kokoda Trail to experience the conditions under which our Diggers fought and died for our freedom in 1942;
Prepare participants for future leadership roles within our Australian community.
Encourage a commitment to community service;
Develop adventure-based skills;
Enhance the personal development of participants;
Penrith RSL Club and the Penrith RSL sub Branch will sponsor four young Penrith locals to participate in the 2016 trek and will cover the cost of their airfare, accommodation and food expenses.
Ms Amber Walker, a 2015 Kokoda Trek participant sponsored by Penrith RSL Club has described her experience as "Once in a lifetime, one that I am so grateful to have been given and one that will forever be kept in my memory. I can honestly say this has been the most rewarding, informative and emotional experience of my life."
Mr Neel Chand, Chief Executive Officer of Penrith RSL Club said of the program, "Last year we sponsored four students to participate in the Kokoda Youth Challenge Trek and this year we are proud to sponsor another four participants. We strongly encourage all interested parties to apply as this truly is a once in a lifetime experience".
Applicants must be aged 17-25 years of age, they must be physically fit and be available to complete the trek from September 24th to October 5th 2016.
Nominations for the KYLC scholarship closes on Monday, February 29th 2016. For more details or to obtain a copy of the application form, visit www.penrithrsl.com.au or email kristym@penrithrsl.com.au.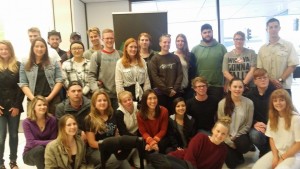 Photo supplied by Amber Walker of 2015 Trek Participants