Do Something Day
– Help our Farmers in Crisis – 
---
"We are now looking at up to 90% of New South Wales effectively being in drought."
Charles Alder, the founder of Rural Aid
---
As a part of Clubs NSW 'Do Something Day' initiative Penrith RSL Club are raising funds to help our rural farmers. Signing on to the "Buy A Bale" campaign, run by Rural Aid, the Club is committed to raise as much as possible to help purchase feed and water for animals and groceries for farming families that are suffering through one of the worst droughts in memory.
According to Charles Alder, the founder of Rural Aid, in an interview on 2GB, "We are now looking at up to 90% of New South Wales effectively being in drought."
"Farmers are now having to buy feed to keep their remaining stock alive, a process that can cost tens of thousands of dollars."
"When I heard the interview on 2GB I thought we have to help out. I couldn't believe how wide spread the drought is in NSW and Northern Queensland," stated Penrith RSL Club Chairman Frank Portelli.
"We feel it is our responsibility to help those that are in need and our farmers are in desperate need right now."
Penrith RSL Club will be asking for community donations from the Wednesday 25th July, until Wednesday 8th August. There will be collection barrels on their bars and the Club will also match whatever funds the community donates.
"We will also be donating $1 from every sale of Carlton Draught Tank Beer and Jim Beam products to the "Buy A Bale" campaign," stated Penrith RSL Club CEO Neel Chand.
"We will also be actively encouraging people to donate on Sunday 5th August when fantastic Country and Blue Grass Band, Byren & Bayou Boogie Boys, will be playing from 2pm to 5pm in our Castle Lounge. Our entertainment is free so we are hoping that people will be generous in their support."
Penrith RSL Club has previously supported Do Something Day by donating prizes and all proceeds from a raffle to 'The Queen of Hearts Foundation' and volunteering to put on children's activities during Penrith Emus games in 2017.
On why Penrith RSL Club has decided to throw its weight behind Buy A Bale this year, Chairman Frank Portelli states, "Supporting our community is of the utmost importance to our Board and we provide a great deal towards the local and RSL community, however Buy A Bale and Rural Aid gain most of their funding from Clubs and Communities in country NSW.
"We feel it is the responsibility of everyone to help our farmers, not just the country Clubs. So this is our contribution to hopefully inspire other City based people and organisations to think about the rural farmers who are doing it tough."
---
Contact:
Kristy McConville
Marketing Manager, Penrith RSL Club
Tel: (02) 4728 5200 | Direct: (02) 4728 5261 | Fax: (02) 4721 8764
8 Tindale Street, Penrith NSW 2750 
---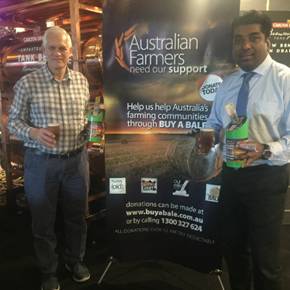 Pictured: Penrith RSL Club Chairman Frank Portelli and CEO Neel Chand with 'Buy-A-Bale' donation barrels and a Carlton Draught Tank Beer.
– Byren & The Bayou Boogie Boys –
Playing At Penrith RSL Club on Sunday 5th August 2018, 2pm – 5pm.