Penrith's Governor Phillip Manor soon to be a Home for Heroes
RSL Lifecare's Homes for Heroes (H4H) program is coming to Governor Phillip Manor in Penrith. The program helps returned veterans who are homeless because of their struggles with PTSD and mental and emotional illness, resulting from their service. The program is a comprehensive rehabilitation service providing accommodation, support, counselling and re-skilling for its residents.
In addition to the support residents receive, opportunities are provided for them to give back to the program by doing volunteer work, mentoring others, or engaging in education, training, and rehabilitation opportunities. Currently based in Narrabeen, there are no other dedicated homeless accommodation centres for contemporary veterans in Australia, however there will soon be a Homes for Heroes wing opening at Governor Phillip Manor in Penrith.
In preparation for its future residents, the H4H wing of Governor Phillip Manor has recently been fitted with computer equipment, a dining room and outside furniture along with a BBQ. These improvements are courtesy of RSL Lifecare, the City of Penrith RSL sub Branch and Penrith RSL Club Ltd, who provided additional funding. RAAF Squadron Leader Del Gaudry, a member of the City of Penrith RSL sub-Branch and a Director of Penrith RSL Club, along with a select group of volunteers from RAAF Glenbrook, Australian Public Service (APS) and Army volunteers who work on the base, provided further support by assembling flat-packs for the first Penrith residents of the program.
"I didn't have any problem getting willing volunteers for the morning assembling flat-packs as they knew it was for such a great cause. I was so proud to be amongst the group, we all knew we were helping our mates who had hit hard times.  We have previously run other fundraising initiatives for H4H at RAAF Glenbrook and we hope to continue to support them as much as we can", RAAF Squadron Leader, Penrith RSL Club Director and Penrith RSL sub-Branch Member, Del Gaudry.
Penrith RSL Club and the city of Penrith RSL sub-Branch, are huge supporters of the Homes for Heroes program. The club and sub-Branch have contributed a joint sum of $60,000 to the program of over a three year period. Earlier this year, Penrith RSL Club also raised an additional $15,421.80 for the program through their annual Penrith RSL Paceway Fundraiser, participation in RSL Lifecare's 'Honour our Heroes' Walk and contributions made on Anzac Day.
"We are very proud of our support of RSL initiatives. Along with our sub-Branch we have been major sponsors of Poppy Park, the Known Unto God documentary, our Memorial Display and the Australian War Memorial. In addition to our financial support, our sub-Branch is extremely pro-active in its efforts to help veterans and is quite hands on in its support of the Homes for Heroes program. We believe that the Homes for Heroes program is a great initiative", said Penrith RSL Club CEO, Neel Chand.
Melissa Neish who is the manager of H4H at RSL Lifecare Penrith was delighted with the assistance she has received and is looking forward to receiving the first residents at Governor Phillip Manor in the coming weeks.
If you know of any homeless veterans requiring assistance you can contact 1 300 183 933 or homesforheroes@wesleymission.org.au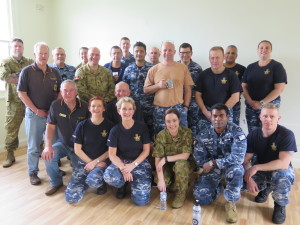 Pictured:
Standing 2nd from left, Penrith RSL Club Director and sub-Branch Treasurer, Bernie Atkinson.
Kneeling 1st from left, Penrith RSL Club Director and sub-Branch President, Mick McConnell.
Kneeling 3rd from left, Penrith RSL Club Director and sub-Branch member, Squadron Leader Del Gaudry, with RAAF volunteers at Governor Phillip Manor.