Penrith RSL Club is continuing to grow and expand its facilities in a concerted plan to give back to its Members. Most recently, we have been undergoing an exciting refurbishment of the Castle Bar & Lounge and the Waves Bar & Lounge.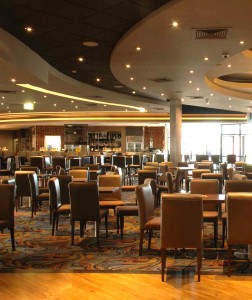 There have been several additions to our facilities and services since the Club first began its' expansion. The introduction of Star Buffet and Maze Catering has been a great success, allowing us to provide new, fresh and diverse dining options for our Members to enjoy. The opening of our multi-story, all weather car park has enabled us to provide Members with safe and convenient parking options at every visit.
Now, with the current dining and entertainment offering, the club is focused on providing an attractive, contemporary venue conducive to a social environment welcoming a wide range of members and visitors. The styles, colours and furnishings that previously housed the club's main areas have been updated to reflect the look and feel of a modern venue. Lounge chairs with soft-touch finishes and improved comfort levels are matched by the earthy colour scheme. Both the Waves and Castle Bars have also undergone modern upgrades with wood grain bar front and stone bar tops, supported by tiled finishes in the immediate service areas. To enhance the bars, stylish self-serve filtered water spouts have been added to each of the bars, which are accessible to customers at all times.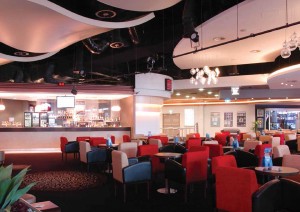 The club now has bars where a vast demographic can enjoy the surroundings, a variety of cocktails, boutique beers, wines and nonalcoholic beverages whilst socialising with friends and enjoying the live entertainment on offer from the Castle Lounge on Fridays, Saturdays and Sundays.
The most significant enhancement to the clubs look and feel is the amazing new carpet. Moving from a typical club's style carpet was the key to ensuring that we, as a club, were not replicating industry styles. Our "Monte Pio" carpet is a modern day design with the use of a strictly random pattern without taking away from the rest of the club's wall and furniture colour schemes, instead complimenting the new club's interior style. To top off all our design choices throughout the refurbishment, the change in lighting has adapted to create a warmth throughout the club. The replacement of coloured lighting with neutral white or warm white tones surrounding bar service areas assist in taking the intensity out of an attractive new bar design.
The club is rapidly moving in an exciting new direction, with an expansion of facilities, a range of high quality entertainment, an array of food and beverage choices and the continued commitment to improving the presentation of our venue, Members will be spoilt for choice when it comes to deciding what they'd like to experience at Penrith RSL.