Penrith RSL Club and the Heart of our City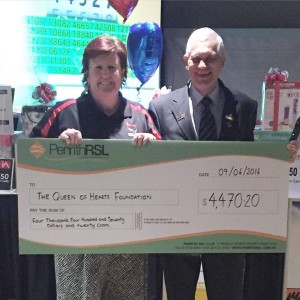 Pictured:
Ms Michele Ellery, CEO of the Queen of Hearts Foundation and
Mr Frank Portelli, Chairman of Penrith RSL Club.
"At the end of the day I would like to end domestic violence, I would like to end child abuse, once and for all", Michele Ellery – CEO of the Queen of Hearts Foundation.
Penrith RSL Club holds a very successful, regular weekly Mega Raffle for over $3000 worth of prizes. On Thursday 9th June, the RSL forfeited the proceeds and donated them to the Queen of Hearts Foundation instead. A whopping $4470.20 was raised, with every cent going directly to the Queen of Hearts Foundation. The foundation, based in Penrith NSW, provides support, protection and services for victims of child abuse and domestic violence.
The fundraiser was a part of the 'Do Something Day – Give Your Best' initiative launched by ClubsNSW for the Your Local Club campaign. The initiative encourages local clubs to do something within their community that will help support and encourage further engagement within their local areas.
Penrith RSL Club CEO, Mr Neel Chand stated, "Our members and the Penrith community are everything to us. This year we have been wanting to engage more with the local community and get our staff involved on a more personal level, so when ClubsNSW contacted us about this initiative, we thought it was a great opportunity and we jumped at the chance to get on board".
The Penrith community thought it was a great initiative also, with hundreds attending the raffle.
"We were confident that we would get a good turn out as the money being raised tonight is for such a good cause. We have some regular raffle goers and some new faces in support of the charity, but overall we are really happy with the number of people. It's great to see the community show their support", stated Mr Frank Portelli, Chairman of Penrith RSL Club who was present on the night.
Ms Michele Ellery, CEO of the Queen of Hearts Foundation, addressed the crowd as she accepted the huge donation, presented to her by Mr Portelli, "It's just so great to see such an amazing turn out and so much support from the people because at the end of the day, its communities just like yourselves, standing up against it (domestic violence and child abuse), saying no, which gives us the credibility to tell our clients that they are believed and they are supported."
"We are working to end domestic violence and child abuse and we feel this is best served through education. Survivors need to feel that the community, that we, believe them and that they have done nothing wrong. It's about breaking that stigma."
Ms Ellery said that the funds will go towards paying the organisation's on-staff social worker, whom only weeks earlier, they did not think they would be able to afford to keep on. She stated, "The social workers are essential to what we do so this money is coming at such an important time and is so needed and appreciated".
Mr Portelli stated, "The Queen of Hearts Foundation deals with very difficult and yet sadly real issues every day and they provide essential services for people who don't know where else to turn. We are really proud to be able to provide some help and thankful to our members and guests who so generously contributed tonight".
The fundraiser also forms a part of the RSL's 'Staff Give Back' program. In the program, a budget of $15,000 was assigned to the staff and they were asked to vote for the local charities and organisations that they would like these funds to be distributed to. On the 13th July, 2016, the RSL will be inviting representatives from the recipient groups with the top six votes to attend a morning tea at the club and accept their donations.
Mr Chand stated, "We are really proud of this program as it is staff driven. We already contribute a lot to the community through Club Grants and to programs like Homes for Heroes, which together with our sub-Branch we have committed over $60,000 to over a three year period. We've also given over $45,000 to the Max Potential program and are sponsoring five Penrith Youths to undertake the Kokoda Youth Leadership Challenge. We are immensely proud of all of our community work, but to have our staff directly involved is just fantastic."
This latest initiative is taking place at a time where the club has huge momentum, after being awarded the Special Judges Award at the ClubsNSW Clubs & Community Awards last month, in recognition of the RSL's contribution to the Centenary of Anzac. They are also adding some exciting additions to the club, with a new Sports Lounge currently being built as well as having more renovations planned for later this year.
For further information about the Queen of Hearts Foundation, please visit